New team member: Mariana Campos
Welcome to Mariana Campos, a new research scientist with the Ecosystem Change Ecology team.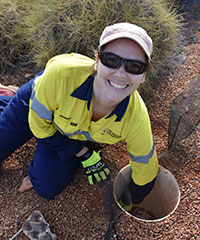 Mariana will join the team as a CSIRO Research Scientist in March 2021. Her research interests are focused on biosecurity, surveillance and pathways analysis, and her work over the past five years has covered a range of questions relating to plant, animal and human pests and pathogens in both agricultural and environmental settings. Before joining CSIRO, Mariana was a Biosecurity Researcher and Lecturer at Murdoch University, where she undertook research in partnership with industry to deliver translational outputs for applied outcomes. Prior to that she also worked for a number of years in environmental consultancy.

Mariana has a PhD in plant ecophysiology from the University of Western Australia and a MSc in plant ecology from the University of Campinas in Brazil, which is where her passion for understanding community and ecosystem ecology arose from. She has particular interest in the 'one health' approach and her preferred research topics are weed management; plant and soil interactions; and quantitative risk assessments. Mariana is also a Director of the Board of the Australian Plant Biosecurity Science Foundation. You can find a list of Mariana's publications here and her profile at The Conversation here.